Malawi cashgate trajectory and DPP excuses
Since taking office following the highly contested and controversial polls last year, President Peter Mutharika has spent a high amount of energy and time telling the world and anybody who cares that the biggest challenge for his government has been cashgate, or rather the effects of cashgate.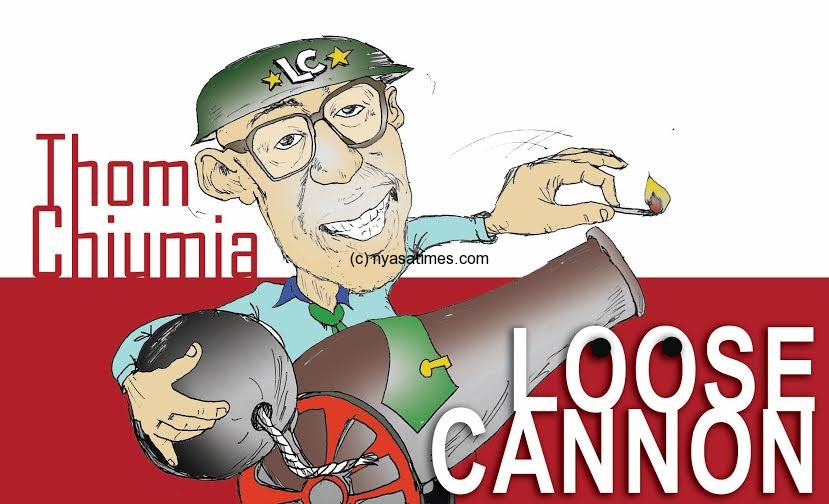 From a synthesis of these high and low lamentations, there is an implicit narrative that suggests that it is cashgate that has resulted in the below par performance of the DPP government. President Mutharika and the DPP talk only about the cashgate that happened during the reign of People's Party.
Before . Loose Cannon go further, I must repeat that Cashgate, embezzlement, or any other name people choose to christen the systematic financial malfeasance, it is simply stealing or the unsanctioned taking of public money for personal gain.
Simply put, it is theft; very criminal and punishable under the laws of Malawi. But I've news for you. Foreign aid withdraw is not a new phenomenon in Malawi and dates back to the days of Kamuzu. In 1991/92 the Paris Club (a group of multilateral donors, who provide aid to developing countries) unanimously recommended the suspension of aid to Malawi due to the deteriorating the human rights record under the watch of Kamuzu Banda and his Malawi Congress Party (MCP) regime.
Budgetary support that time was curtailed as part of an arm-twisting policy by the donors to force the dictator to call for a referendum, which eventually ushered in a multiparty political dispensation.
Bakili Muluzi came into the office when aid had already been suspended, and the pep-talk on political podiums was always about "we found empty government coffers". Donors resumed budgetary support as soon as Muluzi and his United Democratic Front (UDF) established governance rhythm.
The economy recovered and started breathing again. Muluzi floundered significantly particularly during his second term. His UDF went off the political rails; Young Democrats terrorized neighborhoods with unimaginable violence; corruption became endemic and in 2001, the then Director of Public Prosecution, Fahad Assani, revealed that 30% of government resources was being lost through corruption.
Muluzi, in his big-headed moment, made some disparaging remarks about donors, particularly the Danish who promptly suspended their aid. Other donors followed. By the time he left office, donor aid had been suspended leaving his successor, Bingu wa Mutharika, with the familiar running story of "we found government with empty coffers".
The fall-out between the two (Bingu and Muluzi) was so spectacular and nasty with accusations and counter-accusations thrown into the air. By some political Hara-kiri, Muluzi found himself in court with a MK1.7 billion corruption case hanging on his forehead.
Donors promptly came back after Bingu wa Mutharika took the reins of power. He made some pleasing economic decisions and the economy registered an impressive growth trajectory (growing at 7% annually second only to Qatar).
His policies on food security were a marvel and became a model for other African governments. Bingu was, however, not immune to what is now popularly known as the second term curse. He became corrupted with power and corruption became rampant within government and in his DPP.
Bingu became big-headed and refused to listen to the voice of reason. He deported the British Ambassador despite expert counsel not to do so. By the time he died of cardiac arrest on April 5, 2012 (sadly) he was worth a staggering sum of MK61 billion, MK92 billio (now it is MK577 billion) in government money is still unaccounted for. Donors had suspended aid with far-reaching economic consequences. Some 14 people charged by the Anti-Corruption-Bureau for various corruption offenses under Bingu are only just being taken to court now (last week) because investigations had stopped for unexplained reasons.
Joyce Banda came in after Bingu's demise. She found an economy in the ICU. Fuel queues were as long as the eye could see; there was no forex and the country's human rights record ebbed to unprecedented levels. By this time the cashgaters who had been plundering government coffers were still thriving uninterrupted amidst Joyce Banda's efforts to resuscitate the economy. A very good example is Tereza Senzani whose mansion as exhibited in court was built in 2011/12.
Cashgate king pin, Osward Lutepo bought Naming'omba Tea Estate from Christopher Barrow in Thyolo and Chloride Batteries in Blantyre and was in the process of buying Air Malawi when Bingu collapsed.
Joyce Banda brought back the donors within 100 days in office and the economy was resuscitated. The Extended Credit Facility (ECF) with the International Monetary Fund (IMF) got back on track. Foreign exchange import cover was 3.9 months on average and fuel queues were a thing of the past. In fact, the import cover was still at 3.9 months when she left office despite the fact that donors withheld budgetary support over cashgate. Maternal Mortality rate was at 460 for every 100,000 births as opposed to the current 510 per 100,000 births.
From this on-and-off budgetary support omnibus, it appears Joyce Banda is the last person to ever manage to bring donors back. Now 15 months since taking office, there is no budgetary support and the DPP government is still wondering in the wilderness. Its policy framework can only be described as out of sorts and at best confused.
The zero-aid budget looks hang. Service delivery has practically halted and the easiest and only thing they can muster is to blame Joyce Banda. Is Joyce Banda the reason why the DPP government is failing? Since taking office, President Mutharika has twice attended the African Union (AU) summit; he has been to the United Nations (UN) once.
Last year he attended the SADC summit in Zimbabwe but failed to attend the same in Botswana this year. Guess what? He blamed the Joyce Banda administration and cashgate for failing to attend the summit. Umh?
Peter Mutharika must be told that JB is not the reason why his government gives crucial government positions on the basis of tribal linkages.
Joyce Banda is not the reason why Mutharika can throw State House banquettes – Mapwevupwevu –celebrating we don't know what when the rest of the country is erupting in poverty. Joyce Banda is not the reason for Mutharika's serial inconsistencies on major policy decisions.
In fact, it was not Joyce Banda who appointed Ben Phiri to be his de-facto chief advisor. The constant power outages and water disruptions are not the fault of Joyce Banda. The President must simply wake up from his slumber; he has a country to run. The President must get donors back.  Donors return when serious leaders engage them and ask them to do so.
In our scenario, the donors are demanding a forensic audit into the K577 billion scandal. The DPP administration is going in the opposite direction. A well-calculated burglary into German envoy's house where Cashgate documents have been stolen does not help matters at all!
Finally, the obsession about Joyce Banda by this DPP government undermines Malawians intelligence.
For example, it is becoming continuously petty on the part of government to force convicts to implicate JB in cashgate cases in exchange for shorter sentences.  How can anybody steal government money because he heard over the phone that Joyce Banda needed money for elections campaign; really?
How did the recent cashgate convict Leonard Kalonga steal money because somebody he did not know personally; somebody he had never spoken to before, needs that money for campaign. It beats logic!
"It's not what you look at that matters; it's what you see" -Henry David Thoreau
Follow and Subscribe Nyasa TV :