Goodall equates cashgate to Joyce Banda's PP
Former Malawi minister of Finance Goodall Gondwe has said it is clear that cashgate is synonymous with President Joyce Banda's ruling People's Party (PP) which is accused of siphoning off state funds from the national purse to bankroll the party's election campaign.
The PP denies the charges and has been peddling that the looting of billions of kwacha at Capital Hill started in 2005 during the Democratic Progressive Party (DPP) regime.
But speaking at a news conference which DPP President Peter Mutharika addressed in Lilongwe on Sunday, Gondwe who was also hired by Banda as Minister of Economic Planning, exonerated DPP from cashgate.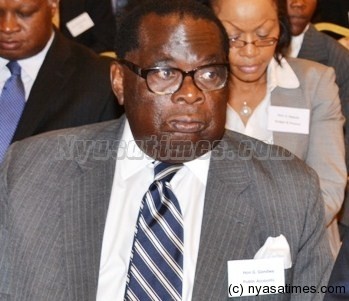 "Cashgate means a crooked deal which government officials involve the third person who gets payment on services and goods which he or she did not supply. The aim is for the government official to get a part of the money. So if you can see, DPP government did nothing close to that.
"What was happening during DPP was just mere corruption not cashgate. Corruption happens all over the world," said Gondwe.
"During DPP regime nobody was caught with bags of cash in the boot of his or her car. Please spare DPP on cashgate. Some people are just afraid of the popularity of DPP," said Gondwe.
Joyce Banda, previously vice president  and one of only two female presidents in Africa, who came to power in 2012 c after the sudden death of the incumbent Bingu wa Mutharika, faces elections in May with most damaging for  her hope of staying in office, is the cashgate scandal which forced foreign donors to suspend  $150mn in vital aid.
In the May 20 vote she faces three prominent male contenders including Peter Mutharika 74, a brother of the late president, Atupele Muluzi the 35-year-old son of former president Bakili Muluzi and Lazarous Chakwera of MCP.
Follow and Subscribe Nyasa TV :