Gwanda Chakuamba again! Bingu must be turning in his grave
It is now too late to advise President Peter Mutharika against welcoming into the Democratic Progressive Party (DPP) Mr. Stephen Gwandanguluwe Nyachikanza Chakuamba Phiri. That has already happened. It happened on Friday, April 8, 2016 at a DPP rally at Nchalo in Chikwawa.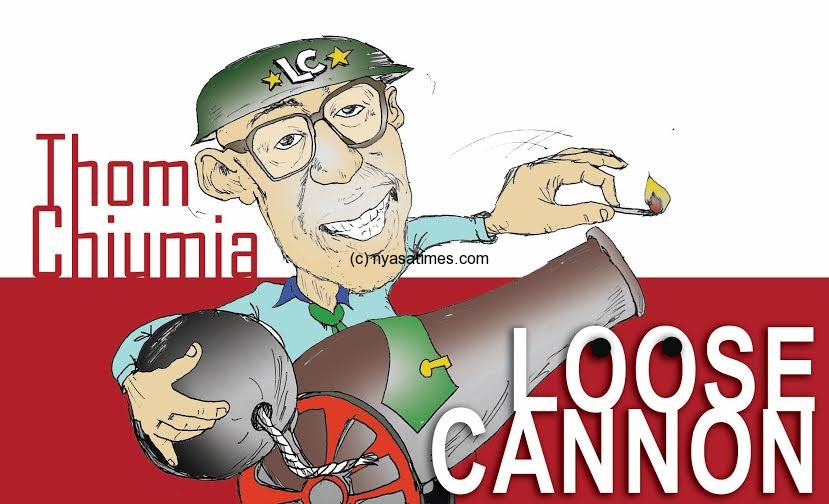 The 81-year old politician said he had decided to spend the rest of his life serving the DPP and President Mutharika as reciprocation to Head of State's recent decision that government sends him to South Africa for medical attention.
Chakuamba's umpteenth return to frontline politics after numerous 'retirements' received very little fanfare. True to a few reviews, the erstwhile Lower Shire political giant does not bring any value to the DPP or, indeed, the Malawi political landscape. He is simply a political spent force who has flip-flopped on his political journey in pursuit of his own selfish ends.
A clearly phony politician, Chakuamba is not going to DPP to serve the party (or the nation) but to save himself from poverty. As a governing party, the DPP controls public resources, which may benefit Chakuamba and his immediate dependents. Remember, recently, Chakuamba made a stunning revelation that he is a destitute who cannot even afford to pay rentals. By joining DPP, Gwanda has played his last card.
However, what is more perplexing in all this drama is how Chakuamba has managed to convince President Mutharika to share a common political podium. They say there are no permanent enemies (or friends) in politics but the enmity between Chakuamba and the Mutharikas may have been an exception.
A political rolling stone, Chakuamba has worked with almost all major political parties in Malawi including his original Malawi Congress party (MCP), the United Democratic Front (UDF) and the Alliance for Democracy (AFORD) of the late multiparty icon, Thom Chakufwa Chihana.
He has led his own party, the Republican Party (RP), which he dumped in 2005 to join the DPP of the late President Mutharika. He was appointed as Vice President of the DPP and Minister of Agriculture and Irrigation. Malawians remember how the relationship between Gwanda Chakuamba and the late Bingu wa Mutharika ended in an extremely acrimonious manner in 2007.
Among some issues that ripped their relationship apart was Gwanda's absurd obsession with a luxurious vehicle, BMW X5 series, which he had bought himself as Minister of Agriculture against laid down procedures.
When he was fired as Minister and DPP Vice President, Chakuamba left the DPP and found the New Republican Party (NRP). He courted UDF's Bakili Muluzi and supported Muluzi's unsuccessful presidential comeback bid in 2009.
Since Chakuamba and Bingu wa Mutharika fell out, the former has made degrading and demeaning remarks against the latter. He once called Bingu wa Mutharika 'Fwaka fwaka', his Sena language description of a pathological liar, following the late President's announcement that the port town of Nsanje would be transformed into a mega city. At some point, Chakuamba made fun of the late Bingu wa Mutharika's speech defects. It was that bad.
Many people now wonder how the DPP can let Chakuamba in when its former leader Bingu wa Mutharika had vowed in 2009 never to work with Chakuamba following their acrimonious fall-out. They say to understand where you are going, you must understand the beginning.
Once, at a public rally in Nkhotakota in 2008, Chakuamba claimed that the late President was not a Malawian but Angolan. He substantiated his claim by suggesting that Bingu wa Mutharika had buried his late wife, Ethel, at a farm because he had no village in Malawi. He was thereafter arrested and charged with inciting violence.
In the run up to the 2009 elections, some people had advised the DPP that they would never win the Lower Shire unless Gwanda was allowed back into the party.  It is reported that a group of ministers met President Bingu wa Mutharika and informed him that Gwanda had agreed to rejoin the party, which the late President turned down.  Bingu informed the ministers that he could never work with anybody who mocked his wife's death.
Actually, Bingu delegated the then DPP Regional Governor for the South, Noel Masangwi to announce at a public rally the decision he had made about Gwanda's return to the DPP.  It was on the same day that Gwanda's right-hand man, Ken Zikhale Ng'oma, announced his resignation from Gwanda's party and rejoined DPP.
It is therefore inconceivable today that Chakuamba has decided to sell himself to the DPP for money and that President Peter Mutharika has decided to break his late brother's vow never to admit Chakuamba again into their fold. Bingu wa Mutharika must be turning in his grave!
Cabinet reorganisation
There have been many reviews on the recent cabinet reshuffle, many of which have described it as pointless. There have been few changes notably the dropping of Agriculture Minister Dr. Allan Chiyembekeza. Indeed, it is the prerogative of the President to fire and hire cabinet ministers. However, one expects that 'prerogative' to bear semblance of rationality.
The sacking of  Chiyembekeza does not make any sense at all. The Bunda-trained agriculturist was an honest, dedicated and most qualified Minister of Agriculture Malawi has ever had. There are a few gaffes he may have committed but gaffes that don't warrant sacking. He may be a victim of circumstances where anything doesn't seem to work for this government.
The appointment of Mrs. Patricia Kaliati as Information Minister is an interesting one. I have huge respect for Akweni and she is one politician that i freely can call at any time be it midnight or wee hours and she does not disappoint. She also calls me any time  if she has official  information to pass.
As a matter of fact, Kaliati is not an effective communicator  but credit should be given to her for always be ready to grant the media interviews.  She has her own dark spots and it should also be remembered that  this is the woman, as Information Minister, who pointlessly insisted in 2012 that the late President Bingu wa Mutharika had not died when the late President's body was actually decomposing!
The retention of. Goodall Gondwe as Finance Minister is retrogressive to say the least. This is the Minister who has presided over an economy in its worst downturn this time around. Goodall was all over defending the sale of MSB Bank when all voices of reason had opposed the move. Look at what the 250 employees of MSB Bank and FDH Bank are facing now-doom!
Goodall has presided over the tumbling of local currency, the Kwacha, against major currencies such as the US dollar, resulting in rising inflation and the general rise in the price of goods and services.. He  has presided over wild tax measures the business sector and the common people have to grapple with to survive. It has been said before and it will be said again. Instead of working to create an enabling environment for business to flourish, Goodall has turned government into a parasite that is now sucking the blood of the very engine of economic growth-private sector.
It has been said before and it will be said again. Goodall Gondwe might have been a bright economist at some point, but President Mutharika must accept that the man is now just a shadow of the economist he used to be. The time Peter Mutharika will realize he has been feeding on garbage from his friend; Malawi will be in economic tatters.
As musiciain  Billy Kaunda lamented in the quote below, the poor who woke up in the morning to put some privileged folks in State House, at Capital Hill or in town halls will just be salivating as a clique of selfish elites share the national cake among themselves while them – who are tantalised as masters – will not even sniff the pleasant smell of the crumbs. I rest my case!
"Muthandiza olemera kale pamene osauka akuona" –Billy Kaunda
Follow and Subscribe Nyasa TV :