Malawi economic recovery to take five years – Goodall
Malawi economy will take at least five years to fully recover, Minister of Economic Planning and Development, Goodall Gondwe said on Wednesday at a news conference in the capital Lilongwe.
Gondwe denied assertions that government had said it would implement the Economic Recovery Plan (ERP) in 18 months time, saying is Malawi facing at least five more years of financial pain.
"Nobody nor any document has ever said the ERP would be implemented in 18 months time," said Gondwe, a former minister of finance when the country's economy was performing very resoundimngly.
"Expecting benefits to commence within 18 months is not the same as saying that the ERP will be implemented within 18 months," he explained.
Gondwe  said the implementation of the ERP would span from one year to five years basing on the four elements, namely policy intervention, short term projects, medium term projects, and social support.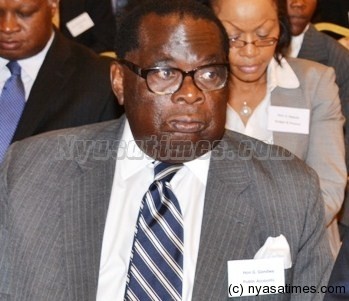 "What came close to the mention of 18 months was what the President said in Brussels that 'some of the ERP efforts may start paying off in 18 months time' and that's not the same as saying the ERP will pay off in 18 months time," explained Gondwe.
He asked Malawians to regards ERP as a long-term project "to get back to where we were", admitting that the southern African nation is in a deep crisis with enormous challenges but that the economy is steadily rebounding.
Consultations
Gondwe also rubbished Press Corporation Limited (PCL) group chief executive officer Professor Matthews Chikaonda who together with Business Consult Africa (BCA) Managing Director Henry Kachaje claimed there wasn't enough consultation on economic matters.
The minister pointed out that the June 29 – July 1st Stakeholder National Dialogue Conference on the ERP was enough testimony that government consulted widely on the matter.
The conference, according to Gondwe, drew more than 150 stakeholders, among them representatives from the Malawi Confederation of Chambers of Commerce (MCCCI) and this, he said, could not be described as not being inclusive.
Exchange rate
Chikaonda speaking during a public debate on  ERP in Lilongwe organised by the Economics Association of Malawi (Ecama) last Friday , provided his input on the country's exchange rate regime adopted by the Joyce Banda administration in May last year.
"The exchange rate that we need is the one that is competitive and that will make Malawi move and grow," said Chikaonda, a former minister of Finance as well as Economic Planning and Development and ex-Reserve Bank of Malawi (RBM) governor.
Some participants at the debate pleaded with government to revert to the fixed exchange rate regime which was widely employed by former president Bingu wa Mutharika's administration.
Gondwe told journalists that floatation of the exchange rate and parallel exchange rate were expected to unify in not too distant future given that the difference between the official and parallel rate had now dropped from more that 80 per cent to less than 5 per cent.
"It is, therefore, expected that the rate would be unified very soon and that thereafter the exchange rate can stabilize," Gondwe said.
Since the adoption of the floating exchange rate regime, there has been a general outcry by several quarters, championed by the Consumers Association of Malawi (Cama).
Gondwe also assured that inflation rate will soon be "drastically reduced" within the year following Reserve Bank's indication that Monetary Policies are successfully reducing the non-food inflation rate.
Follow and Subscribe Nyasa TV :