Malawi says Tony Blair's 'winding up on mutual agreement' as JB advisor
Malawi's State House has clarified that fomer British prime minister Tony Blair has  quit as an adviser to President Joyce Banda  through services of  Africa Governance Initiative (AGI) after a mutual agreement was reached between the two parties.
Nyasa Times were first to report that Blair and his team had been working in Banda's office, advising her was calling it quit.
The story was later confirmed by both the State House and AGI.
However, The Telegraph of UK followed up the story and Malawi dailies on Monday also flashed their front gapes with the story.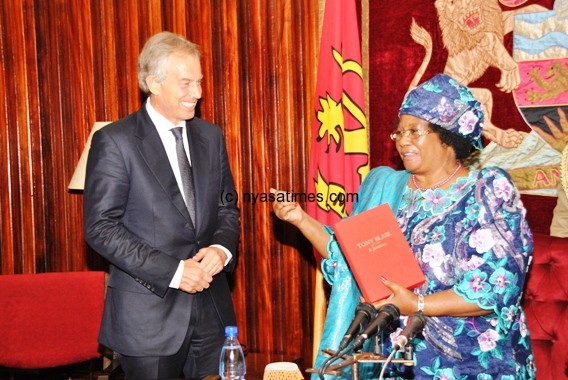 State House through Presidential spokesman Steve Nhlane on Monday issued a statement which said Malawi government has been working with AGI since July 2012  whereby AGI's mandate was "to help build systems in the President's Office and to support government's effectiveness."
The presidential press secretary clarified that: "At the inception of the partnership, Government and AGI agreed that in view of the May 2014 general elections, AGI would plan to accomplish their work by January, 2014."
"In view of this initial arrangement, AGI is winding up its work in Malawi at the end of this month based on this mutual agreement and understanding," added Nhlane in parrying away assertions that the development was linked to the 'cashgate' corruption scandal.
Nhlane insisted" there is no link whatsoever between AGI's winding up and the looting of government coffers as alleged by the media."
State House informed that the AGI team has been on holiday for Christmas and New Year and returns to Malawi in a week's time where they  "will have end-of-project meetings with all stakeholders and wrap up of its project."
The presidential press secretary also dismissed the assertion that the AGI team was helping President Banda to run Malawi.
"As already stated, the AGI's mandate was to help strengthen systems in the President's office and support towards government effectiveness," said the statement.
State House maintained that Malawi Government is "grateful" to AGI for its support and would be pleased to continue working with it after the elections.
AGI official Sam Hardy told Nyasa Times from London that their mandate was "to help the Government build its systems and processes and to support its effectiveness."
He added: "AGI and Tony Blair remain committed to the country and its development and would be open to returning after the election subject to an invitation from the Government of the day. "
AGI began working in Malawi following a visit from Blair who said he wanted to "put on record" his "admiration and respect" for Banda's leadership and Malawi's "exciting possibilities".
Blair set up his African charity after leaving Downing Street in 2007. It offers governance advice to seven African countries including oil-rich Nigeria and Rwanda.
Follow and Subscribe Nyasa TV :