Malawi's crisis like a sinking Titanic
In Malawi, the late President Bingu wa Mutharika grew increasingly arrogant months leading to his sudden death in April 2012. He told Malawi's traditional Western donors, including the British, to "go to hell" for questioning some of his emerging undemocratic tendencies.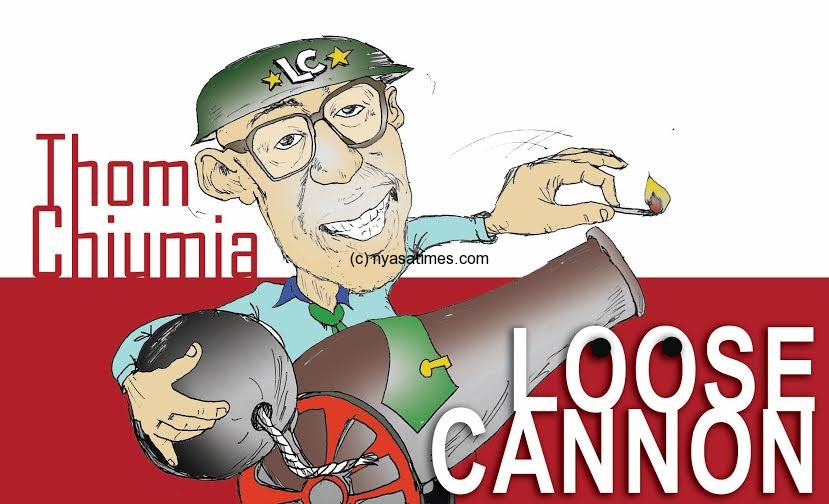 The Malawi economy plunged to all time low during that time. Donors decided to withhold aid; two million people had no food; there was no fuel and no forex for import cover. Many companies had retrenched workers owing to a deteriorating economy. On July 20, 2011, Malawians took to the streets to protest against perceived poor economic management and poor governance by President Bingu wa Mutharika and his Democratic Progressive Party (DPP). 18 deaths, 98 serious injuries and 275 arrests had been reported.
Three years after his death, Bingu's younger brother is Head of State. He is fondly referred to by his supporters as 'Professor Arthur Peter Mutharika'. He is accused of repeating his late brother's arrogance. He theatrically tells starving Malawians that he "personally does not have any problems; those that have problems, it is their funeral".
Albert Einstein (1879-1955) US (German-born) physicist is credited for coining the adage "Insanity is doing the same thing again and again and expecting different results". President Mutharika must desist from repeating his brother's mistakes at all cost. If he does, President Mutharika risks the same resentment that the late Bingu faced during his last days in office.
Malawi is currently in a crisis. The economy is rapidly going downhill. There is an impending hunger situation. There is deep-seated frustration and desperation among the population. You can see that, conspicuously, on their faces.
Instead of inspiring something positive in Malawians, President Mutharika is boasting he has no 'problems'. His Vice, Saulos Klaus Chilima is reported to have called "idiots" Malawians who attempt to ask the leadership where it is steering the country to, politically, socially and economically.
What the leadership ought to know is that Malawians are keeping a close watch on their government as to how it will save the nation from sinking further. The leadership ought to realize that Malawians are not a daft lot; they will always hold leaders accountable for their misrule. It is just a matter of time.
It is not an understatement to suggest that the DPP government, under the leadership of the Professor, has wreaked the economy. Just under two years ago, the economy was ticking and the leaders that time had restored Malawi's relations with her cooperating partners. Those governing that time assertively demonstrated that they were seriously pursuing macroeconomic policies that were intended to spur growth and development. Today, our rulers seem completely lost.
President Mutharika should, as a matter of urgency, rethink his 'Ndilibe Problem' stance and start siding with the vulnerable. The crops in the field are wilting because of adverse weather conditions. The future looks bleak for families that depend on agriculture for food and income.
Peter Mutharika should be standing in the maize fields across the country to assess the extent to which the weather has impacted on the crop. This will help him to plan ahead in the light of an impending hunger situation.
Instead of making useless and politically-induced jokes, the President should visit a few ADMARC depots to appreciate the suffering that women with babies on the back endure in the light of shortage of maize.
Instead of promising to construct a state-of-the-art sports complex in Blantyre, the President should be meeting small and medium entrepreneurs to discuss how best his government can help them sustain and grow their businesses in the light of the economically debilitating effect of high taxes on their businesses.
PAC must represent the people
It is now slightly over a week since the Public Affairs Committee (PAC) convened a 5th All-Inclusive Stakeholder's Conference at Mount Soche Hotel in Blantyre from the 17th to the 18th February, 2016 with a theme "Defining Solutions to Economic and Political Direction of Malawi". On 25th February, PAC released a communiqué on that meeting.
According to the communiqué, PAC acknowledges that demands for the current administration to step down coming against the backdrop of a stunted economic growth and deteriorating living standards dominated the two-day meeting.
PAC urges the DPP government "to seriously take note of the pain and frustrations of Malawians; to seriously consider the proposals made by the delegates to the 5th All Inclusive Stakeholders Conference as honest recommendations by representatives of Malawian society".
The communiqué concludes: "Finally, as PAC, we stand for the voiceless and the poor. In expressing our observations, we read the mood of Malawians and offer our views".
PAC, people's views are that the President and the DPP government have failed them and they must go!"
But who comes in? What type of a government can be formed post-Mutharika era, is a puzzle as of now.
"We need strength, we need energy, we need quickness and we need brain in this country to turn it around."- Donald Trump
Follow and Subscribe Nyasa TV :