So near and yet so far for Malawi Congress Party: Politics may be proving tough for Rev. Chakwera
Richard Msowoya is not your everyday politician. Not particularly abrasive; he normally speaks with forked tongues, especially on hard and fast political matters. He is generally fair, diplomatic in his approach and often prefers human bridge-building language.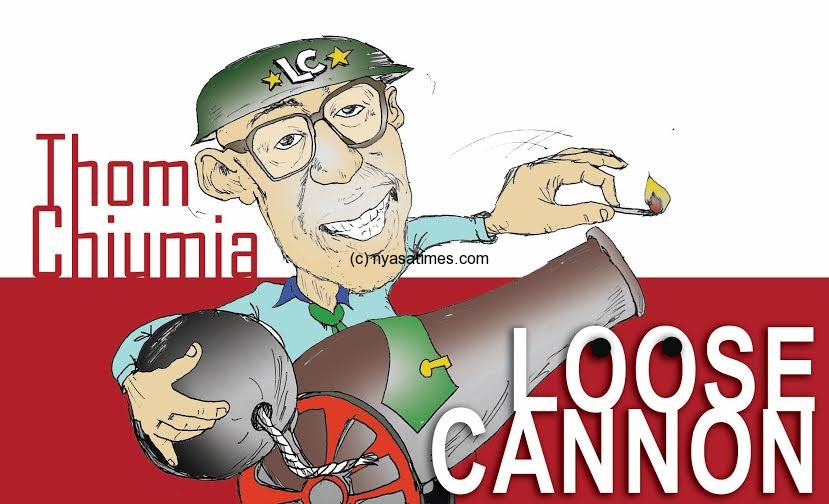 When such a politician suddenly comes out and goes on the offensive to start speaking with trail-blazing fire it means he has either been furiously provoked, or something really big is cooking. Whichever the case, it is a tell-tale sign.
Last weekend, Richard Msowoya addressed a political rally at Chimkusa Ground in Mzimba district, barely a week after MCP's President, Dr. Lazarus Chakwera addressed a political rally in Chikwawa district where he welcomed Muhammad Sidik Mia into the party.
Msowoya made it clear that, contrary to what Sidik Mia and other people are imagining, he will not be just a walkover who will go down without a fight. He made it crystal clear that he expects to partner Chakwera on MCP's 2019 presidential ticket as running-mate.
Sidik Mia also made his intention clear before joining MCP, albeit through a leaked audio speech to a Muslims group that his joining MCP is for a position no less than running-mate to Chakwera so that he becomes Vice President of this country. And he does not seem to have departed from that position. He, in fact, repeated the same line at his welcoming rally,underlining that if Msowoya is  a lebwedelebwede (weak), he will indeed snatch the party's vice presidency position for himself.
This is the reason why many fingers in MCP are pointing at Mia as the main reason why the party seems to be derailing with internal wrangling. They accuse him of cutting corners and blinding Chakwera with money.
As a result, too many feathers have been ruffled and two distinctive camps that hitherto were not as clear as they are nowhave emerged. The first camp comprises Chakwera, Deputy Secretary General Eisenhower Mkaka and a majority of the party's National Executive panel, including now Sidik Mia.
Msowoya's camp, on the other hand, comprises Jessie Kabwila and other members who were fired from the party (by Chakwera) but recently re-instated plus now Secretary General, Gustav Kaliwo.
In fact, Msowoya himself implicitly acknowledged the existence of the two camps in MCP when he said that "even in the Church the pastor is always comfortable when he is working with the session clerk because he is the dictionary of the church,"
This may be a watershed moment for the MCP and, as much as, it may appear on the surface to be a battle for the running-mate position between  Msowoya and  Mia, it is pretty much more than that. It is also (in a large measure) a test of political leadership for Chakwera, and may even be a struggle for his own political survival.
Although Msowoya made statements to the effect that Dr. Chakwera is a better candidate to lead Malawi in 2019, the fact is he is silently bitter with his boss for introducing competition for him.  He may view the coming in of Mia as a stab in the back and may be tempted to retaliate. His drafting in of Gustav Kaliwo and Jesse Kabwila into his camp is not just a small political move; it is a strategy, and we ain't seen nothing yet.
To ensure that Mia and Msowoya co-exist under one roof would be a tough call for Dr. Chakwera, and it is an issue which also promises to be as divisive as it will be fatal for MCP if the former church Pastor is not careful. This is where Dr. Chakwera will realize that politics is not as simple as managing 'Church flock'.
Chakwera, formerly President of Assemblies of God Church in Malawi, now realizes that managing a political party is not just about eloquence and fancy language. It requires one to possess real, detailed and comprehensive transformational leadership qualities. It is much more critical and a much higher plane than he imagined.
Chakwera has been caught wanting as President of MCP and as things are now, the future of the party looks bleak. Whether the two camps will resolve to have a convention on an agreeable date is not certain.
What is clear is that the party will come out of this episode, not stronger but much more bruised and limping. The danger is that this will be happening close to 2019.
It was the general perception of many people that MCP was the closest alternative to the DPP government. In fact, the elections in 2019 were MCP's to lose. But as things are turning out, it appears the party is more ready to be torn apart by its internal wrangles than assume the reins of government
It is said that a fight of grasshoppers is joy to a crow. The biggest winner of the shadow-boxing in MCP is the Democratic Progressive Party (DPP). The more intense the internal wrangles in MCP become, the more diminished will be its chances of winning in 2019.
Chakwera should also begin to fear for his own future. He can only underestimate the 'other camp' at his own peril. These people are not interested to join other political parties and will fight tooth and nail from within. Remember he has been accused of harboring dictatorial tendencies and playing lone-wolf on major decisions.  If bwana Chakwera would not play his cards right, the long-awaited MCP national convention can as well prove to be his early retirement.
"Loyalty is about the party and the movement… if you want a better and more effective party, we've got to open ourselves up much more to our membership and our supporters."- Jeremy Corbyn
Follow and Subscribe Nyasa TV :