Calls for Malawi Finance Minister to resign grow louder : 'Wachekula' Goodall
A cross section of Malawians have intensified their calls for Finance Minister Goodall Gondwe to resign, arguing he has failed the country in recent times.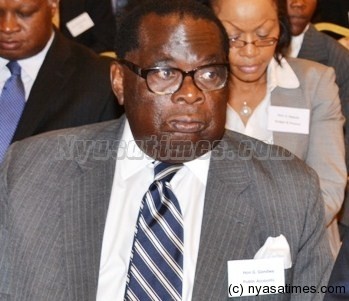 In text messages to Capital Radio, some Malawians pushed the blame on the slump of the economy to Gondwe.
Some of the texts urged President Peter Mutharika to appoint a youthful and relevant finance minister who can deal with emerging economical and financial problems the country is facing.
"He was in Reserve Bank in 1966, he was in the ministry of finance in 1970, he worked for the World Bank in 1972…he has outlived his professional life," read one text on the radio.
Anchor of the Day Break Malawi programme on Wednesday Timothy Kateta promised to read all texts and he did.
However other texts said the economic problems were not  the making of Gondwe, arguing this is a global phenomenon.
Capital Radio wanted to talk to Gondwe to react to the public views but he said he was busy in a meeting.
Also posting comments on Nyasa Times articles,  Malawians argue that Gondwe is "too old" to steer economic revival.
"Wachekula dada Gondwe (Gondwe is too old)," read one comment posted on Nyasa Times.
Another comment read: " Goodall  would do Malawi a big favour by retiring,"
However,  Gondwe said age could not be used to determine one's ability to lead.
In a statement the Finance Minister said the economy would improve soon pegging growth to be at four percent.
He did not however say how soon will the  economy improve but said the weakening Kwachacurrency will  start stabilising " this week or next week."
Gondwe blamed the current economic situation to cashgate, the infamous looting of public resources at Capital Hill, the freeze on aid by traditional donors and floods and drought among others.
He said the Malawi economy was doing much better than other economies in the region soon after they floated their currencies.
Follow and Subscribe Nyasa TV :