So Chaponda is Malawi's sacred cow, Mr. President?: Borrow a leaf from White House' General Flynn
Honourable Dr. George Chaponda has constantly faced criticism for his alleged fraudulent involvement in the procurement of Zambian maize. In fact, the Commission of Inquiry, which President Professor Arthur Peter Mutharika appointed to establish the circumstances around the alleged maize scandal, has just confirmed many people's fears that the Minister of Agriculture, Irrigation and Water Development's involvement was suspicious and that corruption could not be ruled out.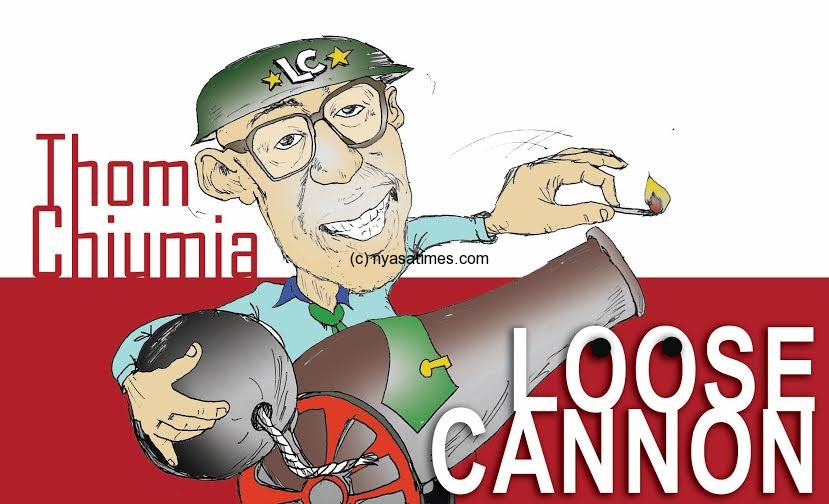 The Commission of Inquiry has, in fact, recommended that the Anti Corruption Bureau (ACB) institutes investigations into the alleged corrupt practices in the acquisition of the Zambian maize. Media reports suggest that the ACB has said that on its part, it will put into action the commission's recommendations and endeavor to expose the truth about Dr. Chaponda's alleged 'corrupt' intentions.
This is one of the most extraordinary corruption matters that we have witnessed in decades, since the dawn of multiparty democracy in 1994. There have been several other 'exciting' cases, including the famous 'Fieldyork Scandal', which resulted in one Sam Mpasu being jailed for a couple of years, but this one looks more dramatic, I guess.
What makes this latest one more dramatic is that despite the overwhelming and widespread public condemnation of Chaponda for his alleged misconduct, he continues to wear a brave face and parries any suggestion of wrong-doing. Without any show of remorse, he tells the entire world that President Mutharika cannot fire him as a cabinet minister neither can anyone agitate for his removal as Leader of the House because "the law presumes anyone innocent until proven guilty by court of law".
The embattled minister cuts that indifferent character and obviously thinks he is immune to criticism and disciplining. He is simply defiant, raising questions about the President's declaration a couple of months ago that there shall be 'sacred cows' in his fight against high-level corruption.
Every time he opens his mouth to speak, the former Leader of Government Business in Parliament seems to continue to lose his mind through his embarrassing defensive utterances against calls for his removal both as minister and Leader of the House.
They say silence is golden, but this doesn't seem true for one George Chaponda. He continues to cause trouble for himself, President Mutharika and the DPP by relentlessly playing the 'victim' and accusing 'northerners' and some unspecified individuals "for plotting his downfall" when actually the whole presidential Commission of Inquiry found out he was allegedly corrupt in his dealings. One wonders whether Dr. Chaponda is aware that his defiant conduct seriously erodes the image of the President and that of the DPP government.
Chaponda may wish to borrow a leaf from White House National Security Advisor, General Michael Flynn, who has just resigned after controversy surrounding his communications with Russia. General Michael Flynn has served under the new US President Donald Trump for less than a month but says he thinks it was an "honorable thing to step away" following accusations of giving false information to US Vice President Mike Pence.
These government positions are not for life. Government ministers and other top officials must realize that there comes a time that you have to pack your bags and go to avoid the embarrassment of being chased away. One individual in the name of Dr. George Chaponda cannot continue to hold the entire DPP government and nation to ransom because of personal greed and political leadership ambitions.
Mr. President, it doesn't help matters when you are reportedly shielding the alleged corrupt minister. It is about time that President Mutharika cracks the whip on Chaponda to save his own political legacy and the image of the DPP government. The President must not blame anyone when allegations of his own benefiting from Chaponda's underhand dealings emerge.
Malawians and the diplomatic community took President Mutharika seriously on his "no sacred cows" pledge in his fight against corruption and related vices. His decision to appoint a Commission of Inquiry to investigate 'maizegate' was indeed an 'icing on the cake'.
Now that the Commission of Inquiry has recommended disciplinary action against Chaponda, why not ask him to "step away" the same way Michael Flynn has done in Washington DC? The president's inaction smacks of hypocrisy!
"Leadership is a potent combination of strategy and character. But if you must be without one, be without the strategy." -Norman Schwarzkopf
Feedback: [email protected]
Follow and Subscribe Nyasa TV :