Goodall Gondwe refuses to recount treason arrest ordeal in church: Gagged
Goodall Gondwe, one of the 12 treason suspects arrested a fortnight ago for plotting  to upstage the then Vice-Pres. Joyce Banda from assuming office following Pres. Bingu wa Mutharika's sudden death last April, Sunday attended church at Enukweni CCAP but refused to discuss his ordeal.
When Enukweni Congregation Presbytery Clerk, the Rev. William Mtika – who is also Henga Valley Presbytery Clerk, asked him to address the congregation,  the former minister – a native of the area, stood up and only said: "Monile monse ba mpingo! Greeting to you all, congregation!" He then proceeded to sit down.
Murmurs went around as the parked church – which held special prayers for him following his arrest – wanted him to talk about his arrest and time behind bars. Gondwe's aide, a Sanga, stood up to explain the situation.
"I know you want Hon. Gondwe to say something about his case but he can't because it is still in court. Wait until it's over," he said.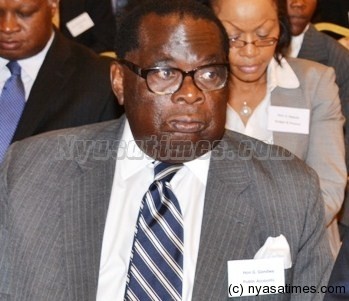 Gondwe, Member of Parliament for Mzimba North, is a much-loved figure in the area. He is said to have embarked on several development projects in the area before he even joined active politics while he was still a director at the International Monetary Fund (IMF) in Washington DC.
The Enukweni CCAP congregation will soon move into a new multi-million kwacha church Gondwe is bank-rolling.
"When news spread that Dada Gondwe has been arrested we were shocked," said a lady who attended the church session with the former Economic Planning and Development Minister. "We held special prayers for him and we are glad he has come to pray with us. We love him so much."
Gondwe, 77 – who first joined Parliament following the expulsion of Yeremiah Chihana from Parliament as Mzimba North MP in 2005, last year announced he would retire from active politics in 2014.
He is widely credited as being key to the Mutharika first term economic miracle between 2004 and 2009 during which Malawi was touted to be the second fastest growing economy after the oil-rich Gulf state of Qatar.
Pres. Banda, who didn't include him in her first cabinet when she succeeded Mutharika, brought him back to help marshal her economic recovery programme.
Gondwe, who has since resigned from cabinet, first came on the public scene when former president Bakili Muluzi appointed him Chief Economic Advisor towards the end of his term.
He was arrested alongside interim DPP leader Prof. Peter Mutharika and other former cabinet ministers and government officials following the publication of a report into circumstances following the sudden death of President Mutharika and the subsequent machinations to usurp power.-Source: Marapost
Follow and Subscribe Nyasa TV :