Kaliati, DPP 'village idiots' attack Chakwera, Dulani
Malawi's ruling Democratic Progressive Party (DPP) outspoken director of women Patricia Kaliati and other party orators took turns at a political rally President Peter Mutharika addressed on Sunday in stronghold Thyolo district to give verbal attack on leader of opposition Lazarous Chakwera.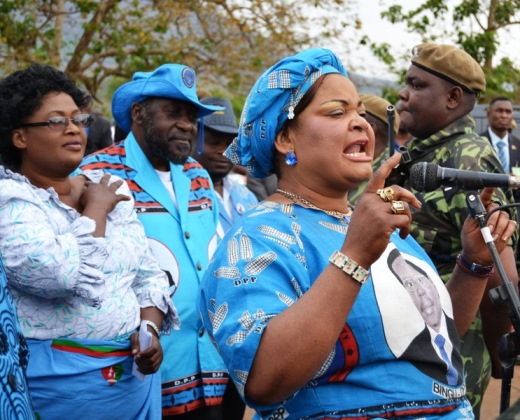 Kaliati, who is also Minister of Gender, was unleashed by President Mutharika as one of  the DPP 'village idiots' at the rally who includedTraditional Authority (T/A) Mphuka, Thyolo Central member of Parliament (MP) Gabu Bob Khamisa, Minister of Foreign Affairs and International Cooperation and DPP vice-president (South) George Chaponda and DPP Southern Region governor Ben Chidyaonga.
A village idiot (chitsiru cha m'mudzi) is character who speaks whatever comes to mind with very little attention to decorum.
They took turns to blast, slander and demonise Chakwera, who is also Malawi Congress Party (MCP) president.
The DPP gurus accused Chakwera of abandoning God for politics.
Chakwera, a reverend, was head of the Assemblies of Church God and resigned to contest for presidency under the MCP banner.
MCP claims he won the elections but Mutharika fraudulently found himself being in power.
The DPP officials claimed Chakwera through the way he has conducted his leadership has consistently minimised his chances of becoming State President and that the only good thing about him is that he has a good flare of English language and speaks well in American accent.
During the rally, DPP speakers also criticised University of Malawi (Unima) political science professor Boniface Dulani over a research Chancellor College recently conducted.
Dulani had said Mutharika has so far failed to demonstrate he is that elusive transformation leader.
He observed that the instead of dealing with the core political issues that can potentially transform the country towards a prosperous future, the leadership is "constantly attending to peripheral matters that only satisfy individual egos and pockets."
But Kaliati visibly charged said Dulani should stop "misleading Malawians" with his claims that Mutharika has not made any notable decisions, especially on the economic front, that suggest he has a vision or agenda for transforming the country.
President Mutharika also discredited Dulani, saying he never made any research as claimed.
"Did he come here to ask you any questions? May be he went to beer hall where he found people drinking and asked them whether they like the President or not?
"I know they did not come. That is the group of Zomba based people, they opposed government during Bingu era and they also oppose me. So, it is a vendetta and I know that. No matter what I do, they are going to oppose. It doesn't matter what I do, they will oppose," Mutharika said.
Dulani argued that within a few days of entering State House, Mutharika quickly resorted to the "default settlement" that the majority of existing crop of politicians is most accustomed to.
He is on record saying Mutharika has so far failed to demonstrate that he has the personality or skills to be that elusive transformation leader that Malawi has been seeking.
Follow and Subscribe Nyasa TV :