Malawi has been on autopilot for far too long,  things must change!
As Malawians are beginning to digest the presidential directive to eat mice and grasshoppers as a way of beating hunger, the country recently erupted into a hotbed of chaos punctuated by police-engineered disorder.  And just like it has been the case in the past, government continues to sit aside and watching from a far.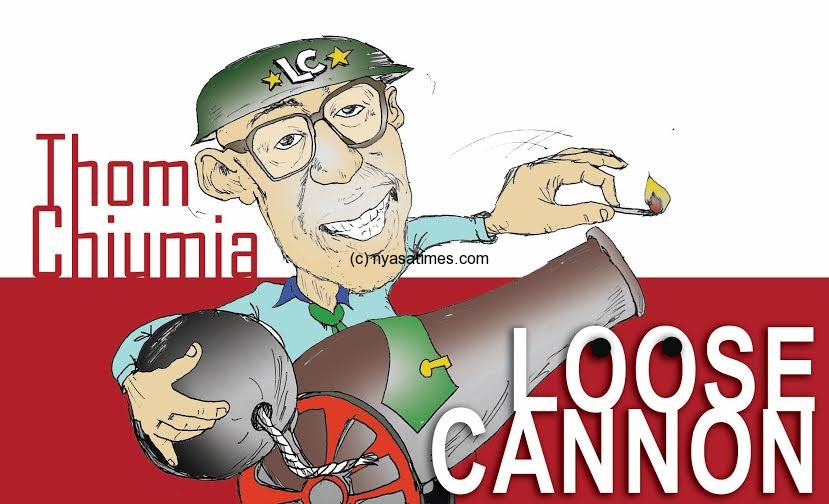 University of Malawi students have been relentless in their resolve to protest against the recent hike in university fees by UNIMA. Chancellor College students decided to demonstrate, to drive their point home, even after their obligatory formal request to the police for a march was rejected for 'security' reasons.
It seems the action-starved Lexten Kachama boys in Zomba took this a pretext to train all their guns and crack down on the students and practice whatever they learned at Ntakataka on this unsuspecting audience.  The crescendo of the running battles that ensured between police and students came when police officer was caught on camera slapping helpless young female students.
A video clip that went viral on the internet captured a member of the so-called reformed police pulling a young girl's hair; slapping and generally harassing sobbing young female students, and, apparently loving it. He was doing this in full view of his friends who were either urging him on or looking passively.
Malawi is a democracy and signatory to the United Nation's universal declaration on human rights. Inherent in this declaration are universal freedoms such as freedom of speech and assembly. Citizens in this country, including students, have the right to express themselves on any topical matter without hindrance, not even from the state.
It was within the spirit of this declaration and democracy in general that this country under the auspices of the British Government spent millions of kwachas to transform the Malawi Police in the much touted 'Police Reform Programme'. The objective of this noble initiative was to transform and re-orient the country's Police so that it conforms to and operates within the dictates of democracy and its principles.
The aim was to equip our Police with modern skills and build its capacity so that it engages and operate in a complex society. The aim was to make Malawi Police respond as a service to the nation not a 'force' as it was hitherto operating and perceived. There was so much hype and fanfare about the 'Police Reform' project that it raised hopes of a new beginning for our Police in a multifaceted and multi-functioning society.
It is sad that after all these years, this country has nothing to show for such a huge investment.  It is a shame that every time the Malawi Police takes five steps forward, there are always 10 corresponding steps backwards. It seems our police service does not miss a chance to retrogress as the years are going by.
The Malawi Police can compete for an award as the most indisciplined, chaotic and corrupt.  It is normal these days to hear of police officers taking bribes and becoming filthy rich; aiding criminals or even carrying our armed robberies themselves. Police officers have even been caught loaning out guns to known criminals to carry out dangerous armed robberies, murdering innocent people in the process.
The police brutality at Chancellor College is certainly a defining moment. Not only for Inspector General, Lexten Kachama,  but also Commander-In-Chief, President Arthur Peter Mutharika.  In fact, Kachama's whole legacy as Inspector General in future may probably hinge on how he deals with this incident.
It's gratifying, though to hear that he is "doing something about that ugly incident". However, it's not nearly enough to announce through the press that "Inspector General is investigating the matter". That video clip is clear who is doing it and Kachama must be firm in, not suspending the offending officer, but dismissing him outright and allowing equivalent charges to be meted out on him under the laws of the land.
The Police Inspector General must make it clear that there is no place for such level of aggression in the modern police service. He must send a clear message to all would be bullies and gender insensitive maniacs that they will be purged out of the service the moment they engage in such unprofessional conduct.
Government, through the Ministry of information, must also state its position clearly regarding this incident.  Is this (the harassing of female students) what government had in mind when it was sending the Police to control the students' demonstrations? Is it the policy of the DPP government to use the police as a tool to harass the vulnerable of our society?
Incidents like these are sadly defining Malawi as a country, and we continue to be the laughing stock of the world. Government must begin to have a clue about what is happening around the country.  It must begin to show direction and create hope for its people. This country has been on autopilot for far too long and things must change. At least we must begin to look like we know what we are doing as a people.
"I think we may have reached the point where guns need to be confiscated from police officers." ― Steven Magee
Follow and Subscribe Nyasa TV :