Malawi inquiry report establishes Bingu's cause of death: Findings on 'midnight six'
An inquiry into an alleged plot by the inner circle of Malawi's late former leader Bingu wa Mutharika to block President Joyce Banda rise to power following his death has been concluded and is to be presented to the Head of State.
Nyasa Times understands that the report has established "substantial evidence" to prosecute some officials for their misconduct during the time late Mutharika suffered cardiac arrest.
President Banda established the inquiry to establish "the cause of death, medical attention available to the president at the time of his death and the role and activities of various individuals during and after the transition."
"By public demand, I have decided to immediately set up a commission of inquiry to investigate the circumstances and intent of the alleged coup plot," Banda told parliament.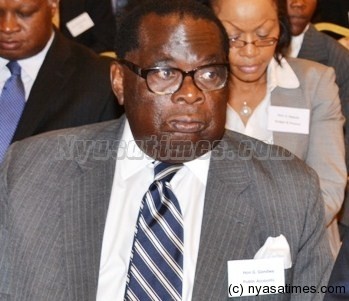 Mutharika, who died on April 5, 2012 anointed his brother Peter, as his heir apparent, even though Banda, as Mutharika's vice president, was next in line to succeed him at his death.
President Banda was not sworn in until April 7 after two days of backroom dealing after several ministers had met twice at Goodall Gondwe's residence (now Economic and Development Planning Minister) to seek ways of installing Peter Mutharika as the new president instead.
The six former ministers addressed a controversial news conference  at night on April 5 2012 to announce the blocking of the then vice-president Joyce Banda from assuming the presidency.
The 'midnight six' includes Patricia Kaliati, who read the statement during the news conference, Symon Vuwa Kaunda, Dr Jean Kalilani, Henry Mussa, Nicholas Dausi and Kondwani Nakhumwa.
They are all members of the opposition Democratic Progressive Party (DPP) which was in power when late Mutharika was Head of State. Among the things that the ministers said during the news conference which received wide condemnation from various quarters, including Malawi Law Society, was that Banda's formation of the People's Party (PP) precludes her from ascending to the presidency
President Banda said "depending on the outcome (of the inquiry), appropriate action will be taken for important lessons to be learned."
Henry Mussa is on record to have publicly apologised for being part of 'midnight six."
"When I sit down and reflect on that press briefing, I really feel ashamed," he told Zodiak Broadcasting Service.
"It was as if I had been bewitched or driven by some unknown force to be there but what we did on that night was very wrong and illegal."
Mussa, however, said what the panel conveyed to the public in that midnight press briefing was agreed by the entire cabinet (many ministers are still serving in the Banda administration) that Banda should not be allowed to take over Malawi's presidency following President Mutharika's death on April 5.
He described the entire cabinet as having "been deranged and confused" to have behaved in a manner contrary to the Constitution and he further described the act as being "very un-Malawian."
Banda appointed Retired Justice Elton Singini as chairperson of the inquiry; Dr. Charles Dzamalala (pathologist); former Inspector General of Police, Joseph Aironi; Dr. Tionge Loga; Elizabeth Sibale; Father Joseph Mpinganjira; activist Brian Nyasulu; Esther Chioko and lawyer Jabbar Alide.
Follow and Subscribe Nyasa TV :