Malawi science university now open
Malawi University of Science and Technology (Must), the country's fourth public university situated at Ndata Farm in Thyolo has opened its doors with an intake of less than 200 students.
Must council chairperson Professor John Saka said when fully operational the university will enrol 3,500 students, but only a limited number will be accommodated at first and a reduced number of courses will be rolled out.
It will offer degrees in health and medical sciences, applied engineering and technology, and Earth and climate change sciences, among other areas.
Must project cordinator Tarsizio Nampota said the  university's first intake is concentrated on Bachelor of Chemical Engineering, Bachelor of Engineering in Metrology and Materials; Master of Science in Innovation and postgraduate diploma in entrepreneurship.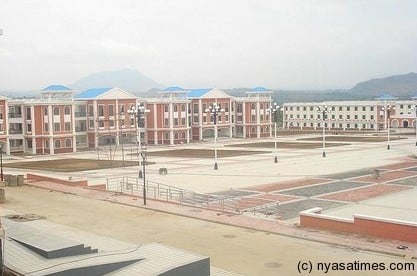 Unesco has pledged to support the curriculum and staff development.
Nampota said MUST has started with "153 undergraduate students and 26 post graduate students."
He said MUST don't have laboratories yet and students will be commutting from Thyolo to Blantyre to access laboratories at Malawi Polytechnique.
The university has developed a motto 'Doing business unusual'.
The construction of a library, a teaching hospital and student hostels, among other structures, was still pending.
In its 2013-14 budget the government had allocated US$185,000 for the purchase of furniture and US$95,000 to cover the university's operational costs.
A loan secured from China had been for construction of university buildings only, which had delayed its opening. Further infrastructure, including furniture and fittings, books, teaching materials and staff houses, was also still needed.
The Malawi University of Science and Technology Bill was passed in 2010 after the Chinese government agreed to lend funds to build a new university, on condition of repayment over 20 years. Malawi borrowed US$70 million from the Export-Import Bank of China to build the new institution.
In 2011 late president Bingu wa Mutharika moved the planned university from the capital Lilongwe to his own farm, Ndata Estate, which is in Thyolo in the south of the country. It was part of Mutharika's ambitious initiative to open five new institutions of higher learning in 10 years.
The five proposed institutions would include the University of Bangula, devoted to cotton research and water resources management, to be constructed in the south. The University of Marine Biology would be built in the western district of Mangochi and would focus on aquaculture.
Mutharika hoped that building five new institutions would end the controversial university entrance quota system based on place of origin rather than merit, which benefited students from the north of Malawi the most in securing university places.
Malawi is said to produce fewer university graduates than any other nation in the 15-country Southern African Development Community region. New reports have claimed that the country only has space for one out of every five students who qualify for university entrance.
Follow and Subscribe Nyasa TV :