Pressure mounts on Malawi budget resources
With only two weeks before commencement of the national budget session of Parliament the Malawi Government is under enormous pressure to find enough resources to fully fund the whooping K743 billion 2014/15 budget.
Minister of Finance Goodall Gondwe and his team are spending sleepless nights to convince the donor community to bring back their support to the budget which covers around 40 percent.
But the international community has sternly put its foot down on the matter stressing that they will only come in until gaps that led to the infamous 'Cashgate' looting are closed.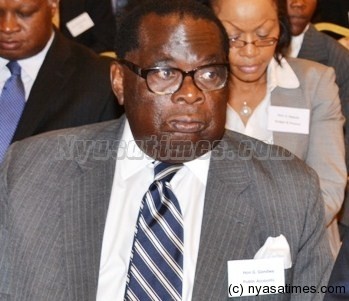 The donors are also not amused that government has decided to still maintain the fertiliser subsidy programme and on top of that introduce another subsidy for construction materials such as cement and iron sheets.
Speaking on strict condition of anonymity a senior diplomat said the stubbornness displayed by the current regime to proceed with the subsidies has made them to pull back a 'little' and engaged the wait and see mode.
"For a fragile economy like Malawi these heavy subsidies will be a burden while again so many offers have been made to the Malawi government on how to deal with Cashgate but such is not heeded so
maybe they have better means and we have just to wait and see how this budget will be realised," the diplomat said.
The unprecedented developments have also pushed for national unity among opposition and the ruling party's Members of Parliament who have now turned their attention to how best local resources can be mobilised at greater volumes.
This trickle-down effect is now exerting pressure on all revenue collecting bodies like the Road Traffic Directorate, Immigration department, Malawi Bureau of Standards and more especially Malawi Revenue Authority (MRA).
It is expected that of the K743 billion, K610 billion will be sourced locally but MRA has been given a lofted target of K493 billion to collect as tax. It is now yet known if new taxes will be introduced or
the current rates increase but given the donors stand one of the two will happen.
This week the MPs under Parliament's Budget and Finance Committee went to MRA to emphasise the point for the tax collector to fulfill their target and also first-hand assurance that it will be done.
Follow and Subscribe Nyasa TV :