Unmasking Lutepo, DPP: Partnership of convenience in Malawi's murky tale of wrongful self-enrichment
The past week has been exceptionally historic for Malawi. Chief cashgate suspect Mr. Oswald Lutepo was sentenced to 11 years imprisonment by High Court Judge Redson Edward Kapindu for stealing huge sums of public money.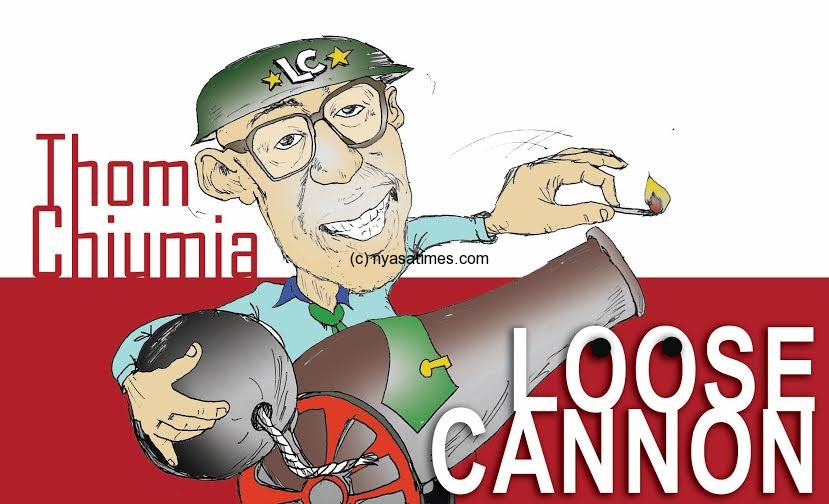 Plunder of public resources, referred to as cashgate, affected the lives of many innocent people and Malawi's good image globally. No wonder, many observers and commentators felt 11 years was a fair and deserving punishment for Mr. Lutepo, described by some sections of the media as "free-talking".
Indeed, Mr. Lutepo is an extremely 'free-talking' character if his public statements during his journey to prison are anything to go by. He changed his statements umpteen times. Investigators described Mr. Lutepo as an "unreliable" suspect and witness.
During sentencing on Friday, September 4, 2015, the learned Judge bluntly declared Mr. Lutepo a liar who was "consciously feigning psychotic and other symptoms of mental disorder secondary gain".
In simple terms, the Judge said while Mr. Lutepo deserved the punishment he got, he desperately wished the Judge had given him a lesser sentence. It was never to be.
The law had to take its rightful course. In vibrant criminal justice systems like Malawi, the judiciary does not entertain propaganda in coming up with verdicts but admissible evidence laid before it. The Judges will listen to permissible evidence and not hearsay.
Shamelessly, Mr. Lutepo flatly insists that he was used by former President Joyce Banda to steal government money to bankroll People's Party (PP) election campaign. He must be both old and educated enough to know that stealing is a sin in heaven and an offence according to the laws of the land.
JB and his PP insist that the ruling DPP and President Peter Mutharika have used Mr. Lutepo to victimize and embarrass JB in order to divert public attention from the current economic challenges. The PP once labelled Mr. Lutepo "a DPP 'lapdog' recruited into its high handed political scheme to finish Dr. Joyce Banda off".
Mr. Lutepo is a confused man, to say the least. After listening to the Judge's statement, he turned around and blamed the 'State' for using him to prove a point to the world that the fight against corruption and fraud is on course in Malawi.
Mr. Lutepo is now a jailed man. He, however, needs reminding that when he was exposed as a cashgate suspect, he 'successfully' ran away to China. He could have gone anywhere to hide. Why did he run away if he were innocent?
With the help of Interpol, the JB government pursued the fugitive. He was forced to return home to face the law. When he returned, Mr. Lutepo was apologetic. He, however, became stubborn and changed one statement after another with alarming tenacity.
A closer analysis of issues surrounding Mr. Lutepo's trial will reveal that before the Baker Tilley Forensic Audit report was released, he had said nothing or less about the alleged involvement of Joyce Banda in cashgate.
The 'State' had anxiously expected that Joyce Banda's name would appear in that report. The report may have dealt the DPP government a deadly blow when not a single sentence therein mentioned JB's name.
Apparently, that became an opportunity for the 'State' to convince Mr. Lutepo to play the 'JB joker'. He claimed he used to handover all the loot to JB at State House; he was a mere conduit, so the narrative went.
Mr. Jai Banda, Mr. Lutepo's lawyer when he was first arrested, issued a statement on Joy Radio in November 2014 that he was surprised to learn that his former client had changed tune in order to implicate Joyce Banda.
The media reported the 'State' had allegedly coerced Mr. Lutepo to implicate the former Head of State in return for freedom. Other reports suggested the 'State' had threatened Mr. Lutepo's wife would be arrested on related criminal charges should he not 'play ball'.
Mr. Lutepo knows his own exact role in cashgate and that of others. He may live long enough to unmask what is necessarily not a mystery but utter confusion and dirty politics at play.
Indeed, Mr. Lutepo will live to tell Malawians that he actually became a billionaire way back in the early 2000s when he served in the DPP under the late President Bingu wa Mutharika.
He amassed plenty of wealth that time and one would not doubt he may appear again in the much-talked about K577 billion 'cashgate' forensic audit report should it see the light of the day.
As Malawians, we must celebrate that the fight against cashgate is being won. We must acknowledge that JB made positive contribution towards this success story. The likes of Mr. Lutepo and Mr. Leonard Kalonga were arrested during her time. The DPP government is doing what it is supposed to do; continue from where JB and PP left.
The DPP and President Mutharika must seriously work on strengthening accountability institutions and public finance management systems to make sure that the evil of misusing public resources should never happen again in Malawi.
The DPP might attempt to use the likes of Mr. Lutepo and Mr. Kalonga to settle political scores and divert people's attention, but the social and economic problems are piling up and Malawians are grumbling.
The DPP may have celebrated the controversial 2014 victory too early and their present pre-occupation with fighting JB is placing them in a situation where it will become too late to save Jerusalem.
"Society cannot always get what they want. Courts do not exist for a popularity contest but only to dispense justice ." –  Judge Thokozile Masipa
Feedback: [email protected] ; Twitter: @thomchiumia
Follow and Subscribe Nyasa TV :