Of Chakwera calling Mutharika 'failed leader' and Malawi govt's slurs
I am not a fan of Leader of Opposition and President of the Malawi Congress Pary (MCP), Dr. Lazarus Chakwera, neither am I President Peter Mutharika's admirer. I am just a mere Malawian scribe trying to do what is right and best for my compatriots. Today, I want to write about the unending war of words between the two leaders and their seemingly relentless urge to outsmart each other at the expense of a suffering people.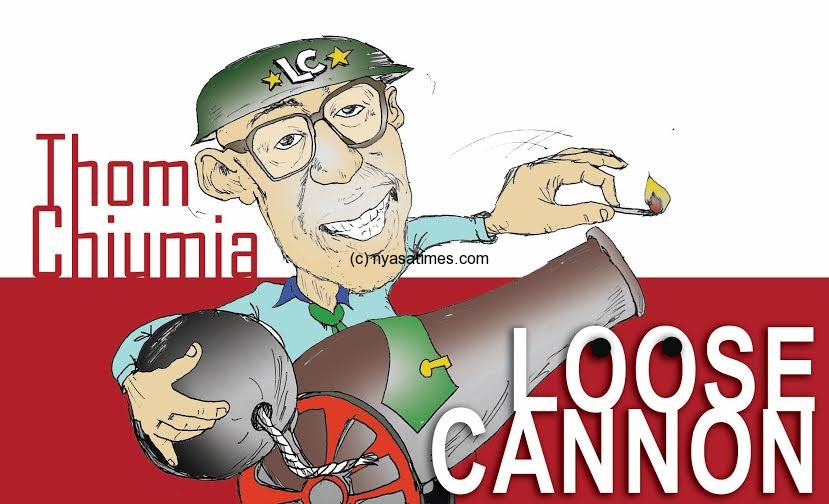 On December 8, 2016, Reverend Dr. Chakwera, the self-styled man of few words, got up on the wrong side of the bed. He decided 'enough is enough' and issued a strong statement, rebuking President Mutharika and his DPP government for driving this country into the ditch.
The Reverend called the spade by its actual name, informing Mutharika and his cohorts they have failed Malawians big time and that they can as well leave the scene to prevent further social and economic damage. Of course, he attempted to offer some free advice to President Mutharika and his administration if they were to turn around Malawi's political, social and economic situation.
Chakwera told the entire world that Mutharika's leadership is destroying this country and that government officials are "themselves now publicly admitting".
For example, he quoted the Minister of Finance as having admitted that "the economy is no longer in the hands of the Mutharika government, but in God's hands". He went on to quote the Governor of the Reserve Bank as saying that the country's economy is "in dire straits, like a stranded ship with no captain".
That the economy of this country is in tatters is an open secret. Mutharika and his cronies continue to amass immense wealth through suspicious means when Malawians are hungry and angry. Any voice of reason seem to fall on deaf ears and when someone dares to remind the country's leadership about the predicament ordinary Malawians find themselves in, they are either seriously dressed down on public MBC television and radio or arrested and charged with treason.
Malawians are yearning for survival under the weight of economic stagnation and acute maladministration. Inflation has skyrocketed, interest rates are very high and the unemployment rate is surging to unprecedented levels. Citizens cannot afford two meals a day anymore and service delivery has virtually ground to a halt.
So, in agreement with Chakwera, the last thing that Malawians want to see, as a matter of urgency, is the adoption of corrective policies and actions that can turn around the economy in the short-term. The regime must put the nation and the people of Malawi ahead of narrow personal, tribal and political interests.
But it seems the DPP regime is having none of that, at least if what we read on Saturday is anything to go by. Government issued a 'response' to Chakwera's well-meaning statement. The government's statement, dated December 16, 2016, and signed by the Information Minister, Malison Ndau, leaves a lot to be desired with regard to solving the current problems.
Government argued that  Chakwera's statement "reflected more of his own state of mind, his ulterior motives, his political psychology and the nature of his leadership more than the state of the nation". Some of us wish to differ with this observation. Chakwera strove to depict the exact situation Malawians find themselves today and what should be done to solve the mounting social and economic problems.
As Leader of Opposition, Chakwera is duty-bound to hold government accountable for its commissions and omissions. The opposition represents an alternative government and it is incumbent upon it, through the official opposition leader, to constantly 'question' the government. Democracy demands that government remains answerable to the public at all times.
The Leader of Opposition must always keep a close eye and ear on what people are saying, needs and wants, especially when government cannot provide the necessary basic services, including health, education, food, electricity, water and shelter. President Mutharika must therefore stop playing the lone-wolf in the wilderness.
Indeed, instead waging a 'war of words' against  Chakwera and other opposition leaders, President Mutharika and his regime should be initiating positive dialogue with the opposition and all stakeholders to find concrete solutions to the pressing problems faced by Malawians.
Instead of wasting government resources, energy and time to outdo an individual in the name of  Chakwera, the regime must be pre-occupied with the process of finding ways of restoring reliable power to revitalize and stimulate the formal and informal economic sectors for the good of the larger citizenry.
Government must be pre-occupied with creating a conducive economic environment to attract direct foreign investments (FDIs), which in turn would generate many jobs for citizens and conversely improve people's livelihoods.
The least that Malawians expect from their government IS a reminder about how many times since 1994 the MCP has lost national elections. The least a peasant farmer at Kunenekude in Neno, Kaporo in Karonga, M'biza in Mulanje, Mbalachanda in Mzimba, Chikanda in Zomba  and a factory labourer at Safarao in Ndirande want is a reminder about what transpired during the highly contentious May 20, 2014 tripartite elections. Malawians have come to terms with the outcome of the May 20, 2014 elections and have moved on. The wounds healed long time ago and it is pointless to start opening them today.
In our economic desperation, who is interested to know about Joyce Banda asking the Malawi Defence Force to act against the purported winner of the presidential polls, Peter Mutharika, in this case?
This finger-pointing and name-calling must end. Government, the opposition, the civil society, religious leaders, the academia and everyone must come together to contribute to the improvement of the deteriorating social and economic situation of our own making.
Most importantly, President Peter Mutharika must now start listening to voices of reason. He must realize that the boat is sinking. Mr. Captain, if you carry on at this rate, we shall all perish sooner than later.
People are feeling the pinch.
"Our nation is in crisis. And in times of national crisis, leadership is critical. But unfortunately for us, the crisis we face is one of leadership itself." – Rev Dr Lazarous Chakwera
Follow and Subscribe Nyasa TV :