Of Mutharika's graffiti and doctor who? …Here comes the 'Loose Cannon'
Welcome on board to my first newslog of the Loose Cannon. In Malawi there are plenty of  authoritative newspaper columnists such as Raphael Tenthani, Graciun Tukula, Edward Chitsulo, George Kasakula, Ephraim Munthali and also prominent bloggers Dr Steve Sharra and  Dr Boniface Dulani. These are but some influential opinion makers.  I am very conscious that I am joining a formidable tradition of political commentary and will also be tackling other issues including treading where even angels fear to.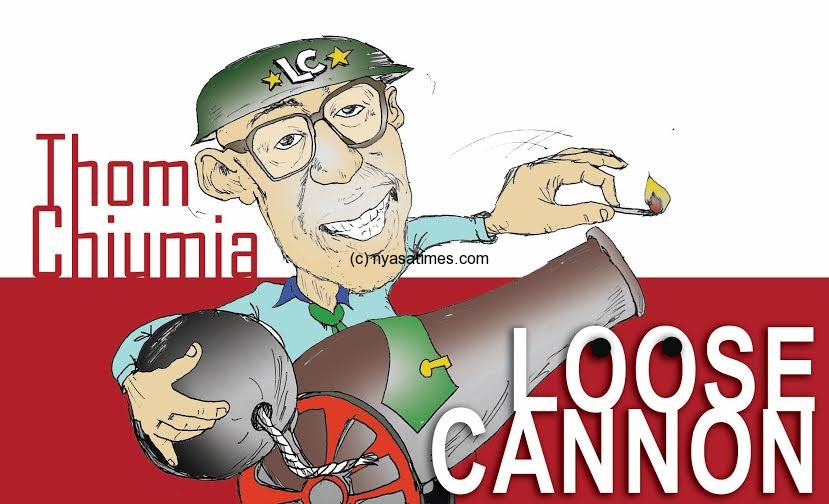 I have picked President Prof. Arthur Peter Mutharika as my first entry.
Mutharika is a learned lawyer and has a wealth of experience in life under his belt. Academic-turned-politician, APM as he is fondly called by his supporters, is a new crop of leaders who had stayed in the diaspora. Many expect him to rise above mbofo-mboyo politicians or the so called village idiots in our parties. Sadly, APM was during the week stampeded by the Democratic Progressive Party (DPP) zealots for spending hard earned tax-payers money to commemorate the second anniversary of Mutharika and 'Midnight Six' arrest on treason charges in March 2013.
I will focus on the celebration style that the President and his front line troops did when they visited their jail cell. They had the audacity to write their names on the walls of the cells– graffiti!! The whole President leading in graffiti action and more so a learned lawyer! He should have known much better than Nicholas Dausi or Symon Vuwa Kaunda that graffiti in prison is illegal. And what message has he sent to the youth? That graffiti is a cool thing?
I echo the  remarks University of Malawi's Chancellor College political commentator, Dr Boniface Dulani, made in criticising the DPP zealots for political hero-worshipping and valuing mediocrity. But Mutharika is not a 'baby' to say he was misled by DPP or his league of advisors. He knew what he was up to. And his action has clearly demonstrated that  civil society leaders will be negligent if they don't demonstrate on the streets where they were shot at, insulted, assaulted and protestors killed, come July 20.
As one top notch lawyer pointed out,  the commemoration of APMs arrest is indeed a mockery to not only the rule of law but also an insult to all those that died fighting for the freedom of this nation including but not limited to those who were arrested and brutally treated at every turn of our governance clock.
What freedom was APM fighting for when he got arrested for treason?  Need a reminder?  Yes, Mutharika  was arrested in 2013 for his role in an alleged attempt to usurp power from former vice-president Joyce Banda following the death of president Bingu wa Mutharika in April 2012. Cabinet ministers reportedly convened a meeting without the then Vice President Joyce Banda immediately after Mutharika's death and plotted to prevent Mrs Banda, the vice-president, from taking over and to thrust the late president's brother, Peter, into power in her stead.
Six ministers– Patricia Kaliati, Simon Vuwa Kaunda, Dr. Jean Kalilani, Henry Mussa, Nicholas Dausi and Kondwani Nakhumwa– dubbed the 'Midnight 6' – held a news conference in the dead of the night on April 6, 2012, on state-run MBC television, telling the nation that the Vice President had no authority to act as president. On 7 April, when Mutharika's death could no longer be hidden, Malawi's Cabinet sought a court order to block Joyce Banda from taking over as President.
But former Malawi army Chief, Henry Odillo, backed the constitutional order and stationed troops around Banda's  house  to allow her take over power. The former ministers agreed to seek a court interpretation on the matter and asked the then Attorney General Maxon Mbendera to get a court order stopping any swearing-in of Banda. Apparently, the swearing ceremony of Banda was cancelled by the then Chief Justice Lovemore  Munlo, saying  he had forgotten his ceremonial robes and wig in Blantyre, 360 kilometres away from Lilongwe.
At that time there were still some behind-the-scenes manouvrings to side-step the constitutional order. But after a two-hour delay, Banda was at last sworn in. Some Malawians expressed concern that the 'mid night 6' action undermined the constitution which, they said, could have led to violence and chaos. The charges were dropped because Mutharika was elected President and he enjoys immunity from prosecution. But, as Malawi Law Society (MLS) secretary Khumbo Soko has put it; as a matter of law, any case can be resurrected, especially where evidence could have been discontinued without conviction.
I strongly feel the commemoration was wholly unacceptable.

No fake doctors
During the said commemoration, Mutharika claimed he never got sick while at Lumbadzi Police Station in Lilongwe. The government should make sure their promise to pass the Access to Information Bill is fulfilled. We will need more records to be flashed out.

The President's claims are frivolous. The truth is there and cannot be twisted for political or whatever gains. With all due respect, upon arrest, Goodall Gondwe collapsed for Blood Pressure and up until now he has a walking stick. Jean Kalilani immediately got herself a hospital bed. And the President with his henchmen were reportedly  "sick".
It was Dr Hetherwick Ntaba who phoned the then Attorney General and Justice Minister, Ralph Kasambara, seeking help that doctors should visit Mutharika and others as they were sick. Kasambara  then told Inspector General of Police Loti Dzonzi  (now retired) to allow them seek medical attention.
Dr. Jonathan Ngoma from Kamuzu Central Hospital was assigned to attend to Mutharika and others. When he first reached the cell, he was welcomed by DPP Cadets and he together with two nurses were humiliated and forced back. But later, after proper communication, they  were given the passage to treat  Mutharika.
He kept giving Mutharika the medical attention while in the cell and they exchanged numbers. When Mutharika assumed power, Dr Ngoma was promoted. After the cell 'vacation', Mutharika also had a sworn affidavit in court seeking a passport to travel to the United States for a medical treatment. He explained his ailment in that affidavit – I cannot disclose the ailment as President's health is personal prerogative information .
I have explained this for the President at least to know  the reasons behind his detention as well as the doctors who were sent for him. The President has said he has signed an affidavit with the Inspector General of Police  which he  will produce "at an appropriate time" and I beg him also to produce that court affidavit that persuaded the judge to give him a passport to travel to the US for medical treatment . We need to compare notes, APM.
Sad that instead of discussing real matters of national development, the leadership has made the nation to be preoccupied by trivia. There are real issues to sort out in our country. Unemployment, the widening gap between the rich and the poor, fiscal policies to work on in the wake of donor absence, reforms  and other substative matters of the nation.
Most columnists have adopted a style of starting with a notable quote. I will be a 'Loose Cannon' and do differently by only ending my newslog with a quote.
 "Running a government is serious business," Dr Bakili Muluzi, former president who ruled Malawi from 1994 to 2004
Follow and Subscribe Nyasa TV :