Sokole-Sokole! Chakwera buzzing around Malawi President like an annoying fly
Thom Chakufwa Chihana, the iconic multiparty politics leader, dared the brutal Malawi Congress Party (MCP) regime of dictator Ngwazi Dr. Hastings Kamuzu Banda in 1992 in an act of pure bravery that many could only dream about.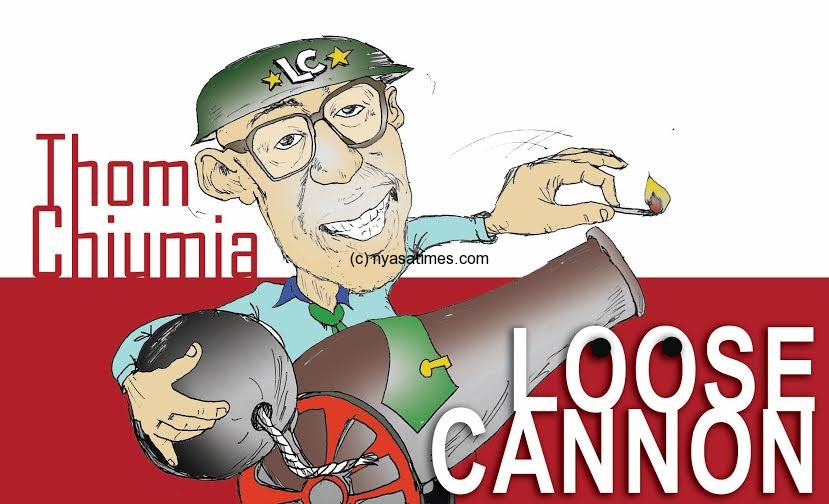 Many of us today were relatively young on April 5, 1992, when, whilst in self-exile Zambia, Chihana announced through the British Broadcasting Corporation (BBC) that he would fly into Malawi the next day to challenge Kamuzu on democracy and that if he were killed, his blood would be the fuel that would propel the engines of freedom and democracy for Malawians.
Chakufwa was not bluffing; he indeed came to Malawi on April 6, 1992, and although he was arrested at Kamuzu International Airport (KIA), his arrival became the turning point in the critical fight for multiparty democracy in Malawi.
For the record, Chakufwa is undoubtedly one of the greatest amongst a generation of freedom fighters to have emerged in Malawi. His contribution to the freedoms that this country is enjoying today is without debate. He is the father of democratic Malawi.
Ironically, today, over two decades later, a seemingly fearless freedom fighter has emerged from the same party that Chakufwa Chihana fought gallantly against—the MCP.
In opposition since being ousted from power in the 1994 multiparty elections, MCP now has a new man at the helm. He is Reverend Dr. Lazarus Chakwera.
Chakwera has been at the MCP helm since 2013 and contested in the 2014 presidential elections.
He has lately emerged as one of the most fearless opposition leaders the country has ever produced since the famous 1964 'cabinet crisis' and of course, Chihana. There have emerged before the Kamlepo Kaluas of this world, but in most cases, these have been the 'comedian' type of opposition leaders; no real solid alternatives to offer, politically.
On the contrary, today, Dr. Chakwera has genuinely assumed the role of Leader of Opposition, leading a political party that is becoming a sure alternative government with its regeneration and new crop of politicians.
It is not surprising that MCP recently won five out of six by-elections, severely crushing the ruling Democratic Progressive Party (DPP) of President Professor Arthur Peter Mutharika, which only managed to win one local Mayani ward in MCP's Dedza stronghold, ironically.
Reverend Dr. Chakwera is now speaking the people's language. He has become the genuine voice of the voiceless. Malawians are beset with unimaginable social and economic challenges that emanate from poor governance, compounded with rampant official corruption and abuse of public resources by the DPP regime. Chakwera is having none of it, at all.
In his words, the Leader of Opposition declared in parliament  on Monday that "enough is enough", and that he shall do "what the President fails to do whenever he comes here, that is to speak the truth to Malawians; for Malawians".
Responding to the Address on Friday by President Mutharika on the occasion of the opening of the 1st Meeting of the 47th Session of Parliament in Lilongwe, Dr. Chakwera fearlessly observed that "instead of coming here to address the frustration and outcry Malawians, the President chose to come here to proclaim an imaginary litany of accomplishments that do not hold up under the scrutiny of basic and well-established facts".
Said Dr. Chakwera: "The statement that President Mutharika made here three days ago, while Malawians from Nsanje to Chitipa sink deeper into abject poverty, was so shamelessly self-aggrandizing, self-absorbed, and self-delusional that this gathering is now a critical watershed moment for our nation.
"The hour has now come when speaking in this House on behalf of our parties is not enough. We must speak as men and women who love our country more than our camps; we must speak as men and women who serve our People more than our Parties; we must speak as men and women who fear the Maker more than the Ministers. We must speak boldly, even at the risk of being branded enemies of the state. We must speak truthfully, even at the risk of being maligned by a misguided mob of mercenaries masquerading as cadets".
Without belabouring the fact, Rev. Chakwera has genuinely demonstrated his true 'servant leadership' skills. He has evidently departed from the 'political norm' where our politicians believe in self-enrichment and self-serving when in fact the shocking reality about politics is all about serving the people.
Chakwera has reminded Malawians, lately, that DPP and its leader, President Mutharika, have forgotten that they were elected to govern on trust of the people of Malawi and they have now distanced themselves, with impunity, from the very people that gave them this mandate.
The recent disposition by Dr. Chakwera must serve as a wake-up call for President Mutharika and the DPP to return to being true political servants of Malawians. They must now always seek ways to be in touch with the people, inquiring about their concerns and interests as well as providing them with feedback and updates on all matters that affect them.
President Mutharika and DPP must quickly realize that serving Malawians is such a high and honourable calling, which requires an equally high degree of humility and honesty.
A fortnight ago, Dr. Chakwera issued a public statement where he accused the DPP regime of 'foul play' and interfering with the process of contract award by the Electricity Supply Corporation of Malawi (ESCOM) for the purchase of three heavy-duty electricity generators. He described the President as a 'pathological liar' in the whole generators equation. It was a famous talking point for the past few days.
Whether or not Dr. Chakwera was justified to lash out at the president in that manner, his statement underlined the fact that political office should not be sought by selfish and power-hungry people or abused and misused for corruption and cronyism purposes. Servant leaders of Dr. Chakwera's caliber would always stand up for the people in such cases.
Indeed, Dr. Chakwera is speaking the people's language. It seems he offers some lifeline to save the deteriorating social and economic status of our nation state.—  Follow @thomchiumia on Twitter.
Sokole! Sokole!
"Indeed, the whole Democratic Progressive Party government reeks with the stench of corruption, and they cannot investigate it because criminals do not investigate themselves. " Dr Lazarous Chakwera.
Follow and Subscribe Nyasa TV :