Blair's AGI rejects Malawi pay claims
Former British Prime Minister Tony Blair's Africa Governance Initiative (AGI) has rejected "false accusations" made in some sections on Malawi media that AGI and Blair have received payments from the Government of Malawi.
AGI is winding up its work in Malawi at the end of this month based on mutual agreement and understanding, according to the organisation and State House.
But allegations that Tony Blair was being paid for the help to build systems in the President's office and to support government's effectiveness.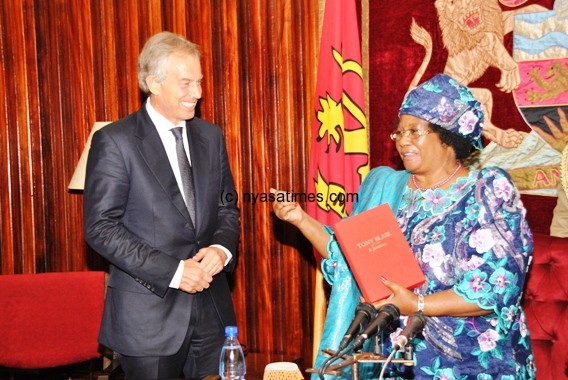 Sam Hardy, AGI Communications Manager, issued a statement on AGI's website which claimed the stories
are  "completely false and are based on absolutely no evidence whatsoever."
He said: "Neither Tony Blair nor AGI has ever received any payments from the Government of Malawi, the President or her office, or any affiliated body."
The statement clarified: " AGI is an independent charity, the work and Tony Blair have undertaken in Malawi has been entirely funded from philanthropic sources."
AGI said it had informed the relevant journalists of the facts.
"We have worked with President [Joyce] Banda and her government since July 2012, from the start of our project there was a mutually agreed plan to scale back our work during the 2014 election period.
"We have to do this in all the countries we work, to maintain our political neutrality as a charity. We remain committed to the country and, in principle, would be happy to return to Malawi after this election period should we be invited to do so by the Government," the statement added.
Follow and Subscribe Nyasa TV :