Finance Bank money laundering charges downplayed: Goodall granted licence for Malawi re-opening – M&G Report
The controversial Chairman of Finance Bank Rajan Mahtani has said his bank is not a "money laundering" institution as it was claimed when Reserve Bank of Malawi (RBM) revorked its licence, 10 years ago, saying Finance Minister Goodall Gondwe granted new last licence last year because "the injustice that happened years back has been clarified."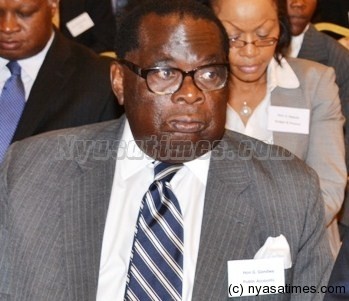 Mahtani, who was banned from banking in Malawi over money laundering accusations and who has dodged multiple criminal charges in Zambia, said his new licence to reopen Finance Bank in Malawi was granted last year after a meeting with Minister of Finance Gondwe in Lilongwe.
According to the Mail and Guardian report, Gondwe confirmed that he had delayed issuing the licence, but said he could change his mind because of the "enormous" legal implications of withholding it.
Mahtani said the "money laundering" allegations were "vehemently" denied and appeared to be manufactured to justify ill-conceived action.
"Simply put, the bank was never involved in money laundering," he said,
Mahtani said that he had obtained a new licence "to ensure that the injustice that happened years back has been clarified."
He said as quoted by M&G: "Malawi is a small market and cannot make profits. The motive was simply to restore our integrity."
The report also indicated that Mahtani had promised former president Joyce Banda a $150-million biothermal energy plant for Malawi  in a bid to regain his banking licence.
"We promised to carry out international banking business under internationally acceptable standards of integrity, ethics and best practice, assisting Malawi in its economy, employment and economic growt," he is quoted as saying.
He promised that Credit Suisse,  a shareholder of Finance Bank of Zambia,   would broker a loan for Malawi government.
He said he would keep his promise to establish the biothermal plant, using cassava to produce ethanol for export to China.
Banda said she referred Mahtani to  Reserve Bank technocrats to independently do "a risk-based due diligence" assessment of all would-be investors and that "no investment would take place until and unless the [Reserve Bank], as a regulatory body for commercial banks, completes this process".
The former president reportedly left State House before the process was completed and only last year the Finance Minister Gondwe granted the licence for the bank to reopen in Malawi from this week.
Follow and Subscribe Nyasa TV :