Saying it as it is on Gwanda: Not quite honourable though, fare thee well
Stephen Gwandanguluwe Nyachikanza Chakuamba Phiri is no more. A few days ago, Malawians woke up to the devastating news that one of Malawi's longest-serving politicians had succumbed to illnesses associated with old age. GwandaC hakuamba or 'Mbuya', as he was popularly referred to in political circles, was born in 1934 in the southern district of Nsanje.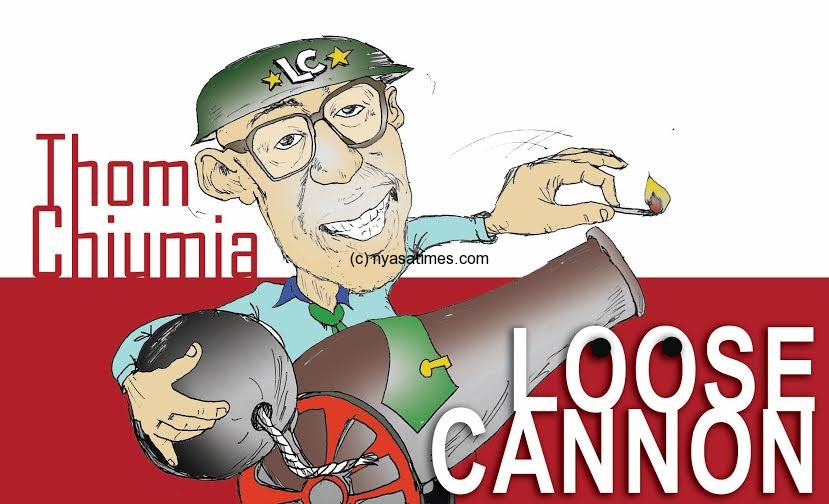 Gwanda had been a key political figure in Malawi since independence in 1964. Among some important positions, Gwanda served under the Malawi Congress Party (MCP) of President Hastings Kamuzu Banda as cabinet minister for many years, commander of the MCP paramilitary youth group, Malawi Young Pioneers (MYP), and secretary general of the MCP, among others.
One story has it that known for his temperamental nature, Chakuamba was a fearless opponent of John Tembo, who was regarded as 'heir apparent' to Kamuzu Banda's 'throne'. It is reported that Tembo and Chakuamba squared up for a fist fight at Nasawa MYP Training Base in Chiradzulu where Dr. Banda was within minutes of arriving to offficially inaugurate the 1976 Youth Week Rally.
In February 1980, Chakuamba was 'charged' with sedition and given a 22-year prison sentence in extremely mysterious circumstances. He was released from jail in July 1993, a month after Malawians voted for multiparty democracy in a referendum.
He immediately joined the opposition United Democratic Front (UDF) but soon returned to the MCP and became secretary general of the party. In February 1994, the MCP announced that Banda was to be the party's presidential candidate in the forthcoming general election and Chakuamba was named Dr. Banda's second in command.
Now, there have been many positive obituaries for the fallen politician. President Peter Mutharika declared that Gwanda be accorded a State Funeral. Former presidents Joyce Banda and Bakili Muluzi regretted the death one of Malawi's "finest politicians". Fine.
However, it would be a distortion of history to ignore the seriously ugly and dark side of Gwanda Chakuamba, as a politician.
Some of us are relatively young. But we have read and heard many stories about the serious human atrocities that the MCP under Dr. Kamuzu Banda and his 'blue-eyed' boys, including Tembo and Chakuamba, committed against the people of Malawi.
It is not a secret that Gwanda could bully and attack anybody whom he believed posed a threat to his political advancement. He did not have a lot of education and exposure but he was a cunning politician. Gwanda was bad, dangerous and feared. He became rich and famous.
Stories have it that he once forcibly grabbed a large farm from a white farmer, which had horses, among others. He ran it down. When former Malawian minister of Home Affairs, Yatuta Chisiza, was killed by Malawi armed soldiers following his guerrilla incursion into the country in October 1967,Gwanda Chakuamba stepped and danced on his dead body, which was on display at Queen Eliizabeth Central Hospital. Gwanda Chakuamba was that bad!
Chakuamba became so powerful that he started nursing presidential ambitions. It was at that juncture that he collided with John Tembo. The two fiercely fought in a succession struggle. Tembo succeeded by having Chakuamba arrested on trumped up treason charges in 1980.
The whole country sighed a sigh of relief, not because Malawians supported Tembo but because everybody felt Chakuamba had it coming. He had 'thrown' many people to crocodiles; he managed MYP and a lot of people died at the hands of that notorious paramilitary wing.
Even though Chakuamba was a real bad man, many political parties and politicians pretended (yes, pretended) to stomach him because of the assumption that he 'owned' the Lower Shire and its votes. Damn it!
Whether dead or alive, Malawians must always stand up against greedy, devious, selfish or self-serving politicians that attempt to detract, distract or derail Malawi, as a nation, from realizing its rightful destiny.
People will forget what you said, people will forget what you did, but people will never forget how you made them feel.
One of the few remnants of a period of political terror in Malawi, Gwanda represents an obnoxious tendency of those in power.
If truly his history is anything to go by, his service or disservice to the nation is to be frowned upon. He was one of the men who helped sustain and perpetuate brutality at the expense of poor Malawian.
Go thee well, Gwanda; your ways were not so honorable, though!
What we have done for ourselves alone dies with us; what we have done for others and the world remains and is immortal." – Albert Pike
Follow and Subscribe Nyasa TV :